R in 3 Months
R in 3 Months is the program to help you achieve your goal of finally learning R. The next cohort will cost $999 and starts in March 2024. Sign up to be notified.
Watch our video to learn more
I've often been asked: "how long does it take to learn R?" I've never had a good answer ... until now.
Here's my answer: 3 months.
Give me 3 months and I'll get you to the point where you can use R for all of your data work.
Learning R will save you time and money.
Time because you'll learn to work more efficiently, automating tedious work through the magic of reproducibility.

Money because you'll never have to pay exorbitant fees for SPSS, SAS, or Stata again.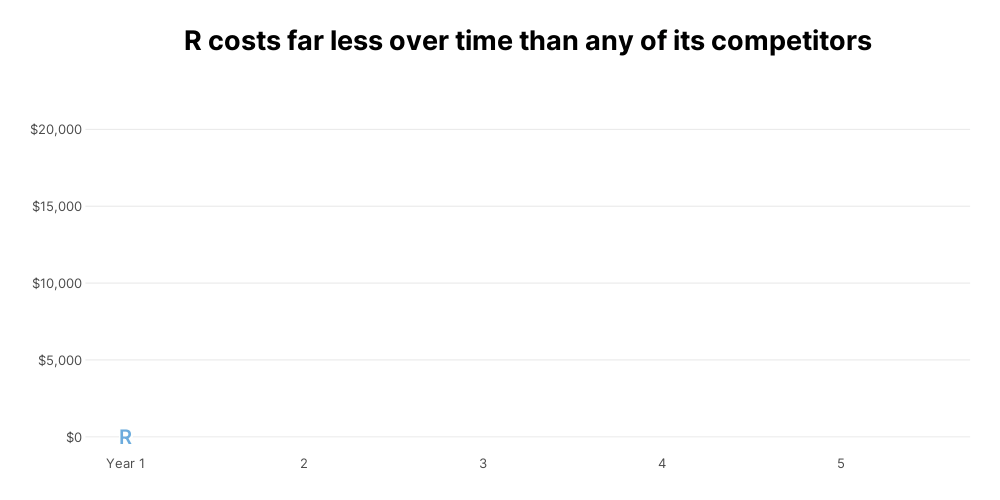 High-Quality Instruction
With R in 3 Months, you'll get high-quality instruction that will guide you from R newbie to R expert.
Over the three months, you'll go through Getting Started with R, Fundamentals of R, and Going Deeper with R, courses that have helped thousands of people around the world learn R.
I've also recently added lessons on using Git and GitHub with R. If you've heard about these powerful tools but never learned how to use them, this is your chance!
Personalized Feedback
Each week, you'll be asked to apply the concepts you're learning to a real project you're working on.
You'll share your code and get personalized feedback to ensure that you really, finally learn how to apply R to your work.
Alongside a Supportive Community
You'll be on this journey alongside a supportive community that will help you learn and keep you accountable to yourself.
R in 3 Months will use a flipped classroom model. Each week you'll be assigned to complete a set of lessons. Then, in our weekly live session we'll go over questions related to the concepts in the lessons you completed that week and discuss ways that you're applying your learning to your own work.
I joined the R in 3 Months with high expectations, and my expectations were blown away. The level of individualized coaching and feedback was extraordinary. I highly recommend making time to take this course!
On my journey through R in 3 Months, I went from excited to overwhelmed to confident. The way David and Charlie were able to adapt to our different needs and take me from never having coded to producing a final report all in R was amazing.
I feel like searching the internet for help with R is like looking for a very specific needle across a giant field of haystacks, and [David and Charlie] are the metal detectors that get us where we need to be more quickly.
R has enabled me to explore my data more deeply and take control of my data visualizations. I would highly recommend the R in 3 Months program to anyone who wants to learn R.
I am speechless! I have been trying to feel comfortable with R for so many years. Still, I used to spend so much time looking for resources on the internet, trying to put all the pieces together, and I was always defeated by laziness and gave up to go deeper into this tool, choosing other software that I am more familiar. This course is an excellent shortcut to learning R!
R in 3 Months is a wonderful resource for beginners or experienced R users alike – truly the best R resource I know for learning and expanding R skills.
R in 3 Months is a complete package to make sure you finally learn R
High Quality Courses
Three courses that all fit together, taking you from R novice to R expert.
Live Sessions
Ask questions about the lessons, show how you're applying your learning to your own work, and more.
Exclusive Videos
When topics come up in live sessions, we make exclusive videos to demonstrate concepts.
Answers When You Need Them
No need to wait until the next live session! Ask questions any time and get answers when you need them.
Personalized Feedback
Through live sessions and the forum, you'll get personalized feedback on how you're applying your learning to your own work.
Accountability
Don't go it alone! Learn R with others and help each other stay on track.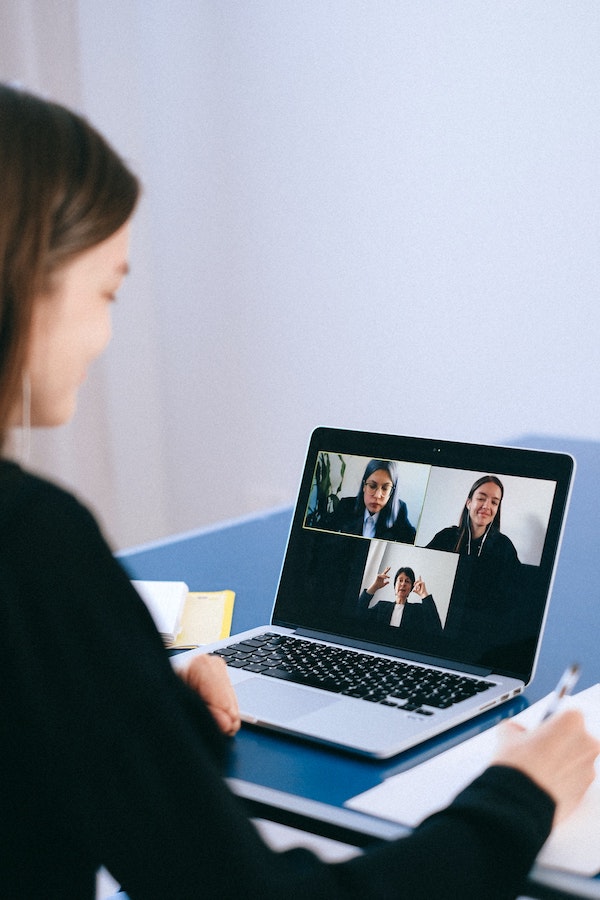 Schedule
Weekly Live Sessions
Live sessions will be held on Zoom Thursdays from 10:00am to 11:00am Pacific time, with recordings available within 24 hours.
Week 1 Introductions and discussion of Getting Started with R
Week 2 Fundamentals of Data Wrangling
Week 3 Fundamentals of Data Visualization
Week 4 Fundamentals of Quarto
Week 5 Catch-Up Week
Week 6 Git and GitHub
Week 7 Advanced Data Wrangling, Part 1
Week 8 Advanced Data Wrangling, Part 2
Week 9 Catch-Up Week
Week 10 Advanced Data Visualization, Part 1
Week 11 Advanced Data Visualization, Part 2
Week 12 Advanced Quarto
Week 13 Final Projects
How Much Can You Learn in 3 Months?
At the end of R in 3 Months, participants submit a final assignment to show what they learned. Here's how far you can go in 3 months.
Frequently asked questions
How long will I have access to the materials?

Can't I learn R for free? Why should I pay for this?

You're right, there are a ton of free tutorials. You can learn R using free resources. I did! But, I will say that, looking back, I know I spent much longer than if I had taken a more structured approach. Going through R in 3 Months, you benefit from the mistakes I've made by taking the shortest route on your R journey.

Can I see examples of your teaching?

Can I see what the live sessions are going to look like?

Here is a sample video from the spring 2021 cohort of R in 3 Months.

How long should I expect to spent each week to get the most out of R in 3 Months?

You should plan to spend 5-7 hours per week devoted to R in 3 Months. The breakdown of this is: weekly lessons from courses (2-3 hours), application of new concepts to your own work (2-3 hours), live session (1 hour).

Do I need to be an expert statistician to sign up?

Absolutely not! I'm an anthropologist by training. I've written about coming to terms with using R "only" for descriptive stats. R has a reputation for being only for hardcore quants, but it's a tool that can benefit so many more people. That's what I mean when I talk about "R for the Rest of Us." That said, you should have familiarity with things such as data types (e.g. character versus numeric) as well basic descriptive statistics knowledge (e.g. calculating means etc).

I've never programmed before. Is this right for me?

People who have never programmed before are the exactly type of folks I specialize in helping (you are "the rest of us")!

Do I need to have any experience with R to participate?

Do I need any special technology to participate?

Nope! You'll use RStudio throughout, We'll conduct live sessions via Zoom, and you'll record videos of your own code using the Loom free plan.

I'm not sure I'll be able to make all of the live sessions. Can I still participate?

Yes! I expect that not everyone will be able to participate in all live sessions, given time zones and/or life. All live sessions will be recorded and posted by the next day so you can catch up whenever you're able to.

Why are you using a flipped classroom model?

I chose this approach for two reasons.

Practically speaking, allowing folks to complete lessons on their own schedule makes this program accessible to many more people around the world.

Just as importantly, I chose to do a flipped classroom model because I think it is the most effective way to learn. I've taught the material covered in the Fundamentals and Going Deeper courses live. The challenge is that participants want to move at widely varying speeds. While some people want to go fast, others prefer a slower pace. A middle ground, medium pace often pleases few and frustrates many. Using a flipped classroom model enables everyone to work at their optimal speed for learning.

I've already signed up for Fundamentals of R or Going Deeper with R. Can you give me a discount?

Absolutely! Just send me an email and I'll create a coupon code that gives you a discount equal to the amount you've spent to sign up for these courses.

Do you plan to offer R in 3 Months again?

R in 3 Months is offered twice a year, once in the spring and once in the fall.

What is your refund policy?

If you are unsatisfied with R in 3 Months for any reason, contact me in the first two weeks of R in 3 Months and I will give you a full refund, no questions asked.